As a co-founding member of Microsoft's Business Value team applied the Microsoft Rapid Economic Justification (REJ) process to assist IT professionals and business thought leaders in building a business case that could be presented to CXOs.
I wrote much of Microsoft's business value-oriented GTM collateral – white papers, case studies, video studies, brochures, positioning and messaging – for many of Microsoft's enterprise applications including Windows Server and Client, Office, Tablet PC, Small Business Server, SharePoint and SharePoint Server, Forms Server and Enterprise Project Management.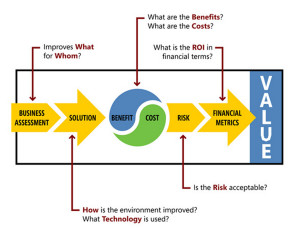 Microsoft (Seattle) – First person at Microsoft in 1996 to write publicly about the business value of the Web for CXOs; 24 articles published on MSDN.
Microsoft (Seattle) – First person at Microsoft in 1997 to write publicly about TCO and business value analysis.
Microsoft (Seattle) – First person at Microsoft to use business value methodology to write technology deployment planning guides including Windows NT, Office 97, Exchange Server, and Transaction Server.
Microsoft (Seattle) – Team lead and book architect for the groundbreaking Windows 2000 Deployment Planning Guide which focused on identifying the business value and economic rationale of deploying Windows 2000 Server and Client in enterprise environments.
Microsoft (Seattle) – Co-founding member of Microsoft Business Value Team that enabled technologists and business thought leaders to make pre-deployment financial-driven business cases using the REJ methodology to CXOs. Closed many multi-million dollar sales based on pre-deployment value analysis.
Microsoft (Seattle) – Worked with three international enterprise clients (pharmaceutical, energy and finance) to conduct pre-deployment business value analysis of Office 2000 to assess potential financial value and ROI. Worked with Gartner and Giga Group analysts to vette findings and present the first business value oriented case studies published by Microsoft.
Microsoft (Seattle) – Writer and project manager for the development of fifteen business value case studies for the launch of Windows Server/Client 2000. Case studies were lauded by IT analysts as the most tangible case studies Microsoft had produced to date on their enterprise software offerings because they were based on real customer metrics that demonstrated measurable business success using industry standard financial metrics based on GAAP.
Microsoft Business Value Summit (Los Angeles) – Guest speaker on business value positioning and messaging through customer evidence (customer testimonials, print and video case studies and white papers) as well as using messaging as a competitive differentiator to business and technology decision makers, IT professionals and technology influencers. Esteemed management guru Peter Drucker was the keynote speaker.
Intel (Oregon) – Authored and produced ground-breaking white paper on how Windows and Office performs better on Intel-based hardware using the Gartner Total Value of Opportunity (TVO) financial assessment methodology.
Microsoft (Seattle) – Wrote value-oriented sales and customer collateral for Microsoft Premier Maintained Applications, a newly launched enterprise services support offering.
Microsoft (Seattle) – Authored more than 50 business value white papers and more than 200 business value customer case studies on a wide variety of Microsoft enterprise products including Windows 7, directed video case studies, wrote and produced marcom collateral, presentation and sales training all based on business value principals, positioning and messaging.
Microsoft (Seattle) – Authored the first business value oriented white paper on Microsoft's Tablet PC operating system for the market introduction of that OS in various hardware form factors. Analyzed data from more than twenty enterprise customers, wrote all copy, designed the information architecture and graphic elements and creative directed the page design and layout with a contracted design firm.
Microsoft (Seattle) – Wrote and produced more than 300 business value customer evidence case studies and on behalf of Microsoft account teams worked with more than 300 global brands including AMD, Austrian Ministry of the Interior, Avanade, Aventis, AXA Financial, Banco BBA, Banco Nacional de Costa Rica, Bosh, BP, California Almond Growers, Cap Gemini, CEMEX, Centura Health, CIGNA, Compaq, Cisco, City of Seattle, Cognizant Technology Solutions, Covansys, Credit Suisse, Dassault Systems, Data Return, Dell, Deutsche Bank, DuPont, EDS, Enterprise Rent-A-Car, Epicor, Ernst & Young, Essilor, Frontier Airlines, Fujitsu, Garanti Bank, Gentiva Health Systems, Getronics, Guardia de Finanza, H&R Block, HP, Helsinki Schools of Economics, Home Shopping Network, Honeywell, Intel, Interland, Lexis-Nexis, lighthouse For The Blind, Madrid Stock Exchange, Marks & Spencer, Mercedes Benz, McGraw Hill, Merck, Meredith, Nabisco, National Building Society, Navigant, NDB Capital Markets, Quantum, P&G, Rhodia, Rhone Poulenc Rohr, Rohm & Hass, SAIPEM, Samsung, Satyam, Spanish Ministry of Tourism, Suez Group, Travelers Group, Tyco, Unisys, University of Texas, US Department of Defense, Wipro, Xerox Global Systems and more.
Sealed Media (San Francisco) – Developed and wrote several business value-focused customer evidence case studies.